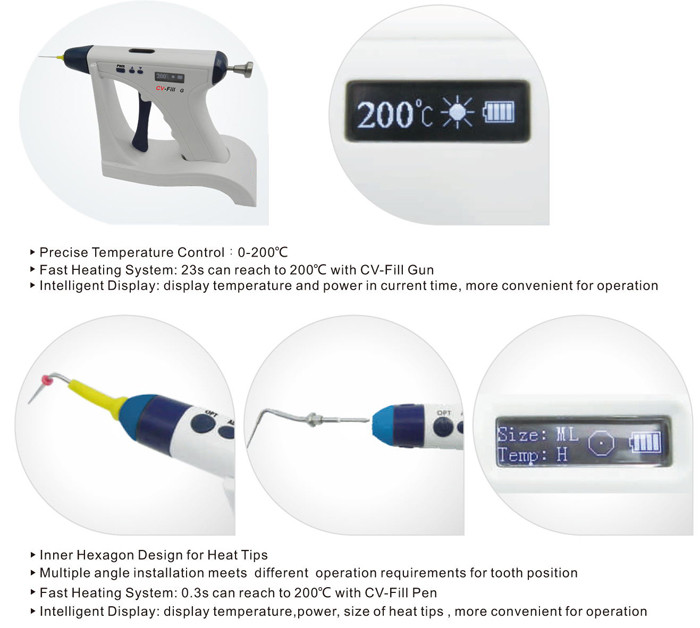 Features:
●Exquisite and ergonomic design complys with standard of human engineering, easy to operate.
●Perfect cordless 3-dimensional obturation system. Fantastic combination of filling method of vertical compaction and backfill.
●Fast heating:30sto 200℃ with CV-Fill Pen .
●CV-Fill Gun with fast Heating, More relialble, Better structure.
●With OLED display screen. Digitizing temperature display contributes to convenient setting of temperature
●High capacity Li-ion battery provides stable and prolonged usage.

Advantages of Gutta Percha Obturation System:
●Enhancing effect:1) Excellent filling, fully obturate the narrow root canal.
2) Good stability, vertical pressure from the gutta percha obturator completely obdurate the root canal system.
3) Excellent obturation, tightly obdurate the root canal after filling, preventing reinfection.
4) Flowable, especially suitable for filling the complex root canal, lateral root canal, C-Shaped root canal and internal resorption of root canal.
●Shorten Treatment: shorten the treatment time greatly.
●Increasing efficiency: compare with the traditional filling, our gutta percha obturation system with less working procedures, lower working strength, less working hours and higher working efficiency.